Breakfast is served everyday from 9am to 3pm. Seating is first-come, first-served (no reservations taken for breakfast). All prices, wines, and vintages are subject to change.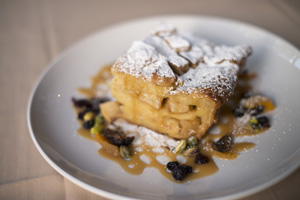 ~Sweet~
~Savory~
Kiwi Marmalade, Strawberry Marmalade, Apple Butter, or Pistachio Nut Butter
Substitute a fresh baked cinnamon roll instead of toast for $2.00. Substitute cheese grits or mixed greens instead of potatoes for $2.00.
~Comfort~
Gravy/Mole may not be served on the side.