Links
Links
NeptuneWine is Southern California's premier source for Wine Education, offering The Wine and Spirit Education Trust Courses, or WSET, through The Neptune School of Wine.

The Neptune School of Wine is the first WSET Approved Program Provider in Southern California, established in 2003. We offer the only WSET Courses taught by or overseen by a Master Sommelier and WSET Diploma Holder.
The CAMP, now entering it's 10th year, excels as an innovative retail campus dedicated to an active, healthy lifestyle mindful of environmentalism and supportive of the local community. This nontraditional shopping center balances culture, sophistication and functionality, blurring the boundaries between nature and everyday bustle of life in the O.C. Welcome!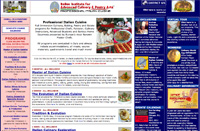 Italian Institute for Advanced Culinary & Pastry Arts
Full Immersion Culinary, Baking, Pastry and Gelato programs for Professional Chefs, Patissier, Culinary Instructors, Advanced Students and Serious Home Gourmets presented by Europe's most Renown Master Chefs.

All programs are conducted in Italy and always include accommodations, all meals, course materials, gastronomic travel and much more!
For every smart reason you've made natural beef part of your family's healthy lifestyle, Vintage Natural Beef® is all that and so much more.

Starting with a small group of family-owned ranches steeped in the tradition of raising beef the natural way, Vintage is produced from a pure and single breed.

With its higher level of purity, tenderness and flavor, there has never been a natural beef like Vintage Natural Beef.