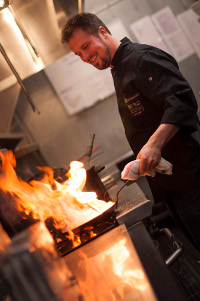 Since 2007 Old Vine has redefined dining in Orange County; first, for more than a decade as the beloved Old Vine Café, and now as the expanded Old Vine Kitchen & Bar. The award-winning restaurant, operated by chef-owner Mark McDonald and sommelier-owner Kate Perry, serves dinner and late night cocktails curating the best of food, wine, and cocktails in a non-pretentious, casual atmosphere. Old Vine remains deeply committed to their tested philosophy of featuring regional cuisine, quality products, and fostering authentic connections with customers.
For almost 12 years McDonald led the helm at Old Vine Café, building a loyal customer community around food, wine, and travel through his seasonal menus, hosting guest chef events, and leading clients on twice yearly trips to Italy. With Old Vine Kitchen & Bar he joins forces with longtime Old Vine sommelier Kate Perry, embarking on a new chapter of championing an eclectic offering of food, wine, and cocktails. As a certified sommelier, Perry draws on her training to create guest experiences that feature wine education and that encourage people to try new wines and varietals outside of their comfort zone. Together, McDonald and Perry use their combined culinary and wine expertise to craft the unparalleled food and wine pairings that have become a hallmark of their menu.
With the 2019 expansion, diners now enjoy a newly designed restaurant space featuring custom metalwork by Mark Gerardi. The restaurant also showcases a series of abstract paintings by artist Paul Kole, along with his work on 80 hand-painted menu canvases. Old Vine Kitchen & Bar maintains their signature intimate seating in the dining room, while adding a full bar, cocktail program rooftip dining, and enclosed outdoor patio that can also be reserved for private events.
Engagement with customers and the community remains a priority for McDonald and Perry. They are proud to partner with Melissa's Produce and local farmers, and can often be found participating in local festivals and events. Chef Mark continues booking spaces for the twice-annual Splendors of Italy tours, culinary-driven vacations through northern and southern Italy feature hands-on cooking lessons from master chefs; winery, historical site, and agriturismo visits; and multi-course meals featuring regional cuisine. Additionally, Chef Mark does international consulting and teaches at the Italian Culinary Institute in Italy where he previously trained as a culinary student under Master Italian Chef John Nocita.
Old Vine Kitchen & Bar
We are located in The CAMP retail & entertainment center.
2937 Bristol St. Suite A-103
Costa Mesa, CA 92626
Phone: 714-545-1411
Email: oldvinecafe@yahoo.com
Follow Old Vine Kitchen & Bar on Facebook
Follow Old Vine Kitchen & Bar on Instagram
Follow Old Vine Kitchen & Bar on Twitter